Color Chart
VIRGIN HAIR COLOR CHART
All our Hair Extensions and Lace Wigs are made with 100% virgin hair and only come in Natural Virgin colors which range between an (Off Black) to a Medium Brown. All our hair can be dyed to the color you desire. IMPORTANT! PLEASE NOTE: If we color the hair for you the hair is no longer able to be colored or dyed once you receive it.
PLEASE NOTE: [Natural Virgin Color ] is never colored and is sold in its raw natural state, therefore, there may be slight variations in color from one donor to the next.

---
CUSTOM COLOR CHART
We can now custom color your hair for you for an Small Extra Fee. Express yourself with an array of custom color options ranging from solid color, highlights, balayage to Ombre, it is available to you now!....
Additional color options
Ombre
Hair that is dark at the root, and blends into a lighter shade as it gets towards the ends.
Balayage
First of all balayage (pronounced bah-lee-AHZGE) is a technique we use to highlight your hair, and can be used to achieve many different looks. With balayage, also known as hair painting, the lightener or hair color is painted on in such a way as to create a graduated, natural-looking effect from end to root and is all about creating beautiful blends of multi-dimensional color.
Highlights
Consist of thin or thick strands of hair that we lightened at least 2 shades lighter than the rest of your unit. Your highlights can be any tone or any shade of light or dark. As long as they are lighter than your overall base hair color. Of course we can place the highlights where ever you would like. You unit is a canvass. With highlights, you can go as funky or as natural as you please.
Please note:
If you do not see the color you would like you can simply select "Online" and then write it it in the additional comments section when ordering your custom lace unit and "UPLOAD" a photo and we can color match it for an additional charge.
Colors will vary and can appear different online, depending on the computer screen or device you are using. Lighting on your phone, computer, and in the photos can alter the appearance of hair colors. Color Matching by email or online cannot be guaranteed for these reasons. You can send us a photo of your hair in natural sun light for an online color consultation.
Please note: The color chart is only a rough guide, because the colors you are looking at may vary due to your monitor and computer setting.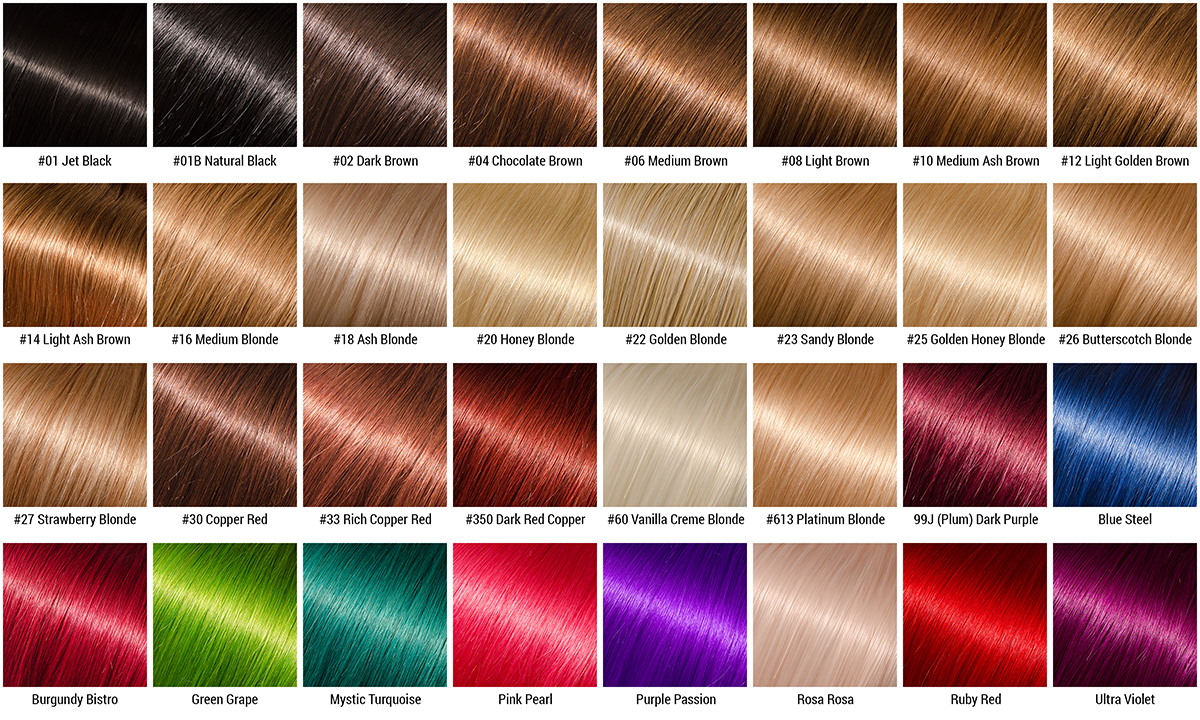 ---
One of the best things about wigs is the vast selection of colors that are available. You can match your own hair color or go for something new. Generally your eyebrow color is the standard to follow. For a natural look you will not want to stray too far from that.
Complexion is also a very important guide in selecting hair color. A strong contrast such as a pale complexion with jet-black hair, is great for making people notice your face, but only if you have a perfect complexion. Contrast is important, without it your face can get lost. Dark complexions and eye colors can still profit from some contrast with hair color. Often a dark brown complexion will be set off with light chocolate hair, or jet-black hair. Then light brown complexions get contrast with dark brown hair. The amount of contrast is up to you.